Swine Sucker is a Madball introduced in Amtoy Series 2. He is a fat boar with large tusks and stitching on his body. In the Art Asylum Era, there is a stamp on his rear end reading he was rejected by the M.B. Meats company. He will return in Just Play Series 2, and will be portrayed as a spineless complainer who constantly blames others for his actions, and takes credit for everything.
Swine Sucker in the Comics
Edit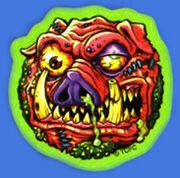 Swine Sucker was one of the Madballs created by Dr. Frankenbeans, but they turned against him and joined the original Madballs. Swine Sucker was just as reckless and fun-loving as the other Madballs. He was also notably gluttonous, such as when he defeated the Vegeterribles by eating them.
Swine Sucker in the VHS Cartoons
Edit
In Escape from Orb, Swine Sucker makes an appearance as one of Commander Wolfbreath's Badballs. He is first seen patrolling the streets of Orb. Screamin' Meemie and Oculus Orbus manage to get past him. Like the rest of the Badballs, he is sent back into space when Slobulus rewires the Badballs' spaceship, which the Badballs themselves were trapped in.
Community content is available under
CC-BY-SA
unless otherwise noted.